New research has revealed that Australian pockets are taking a serious hit, losing over $ 4.8 million a year to online shopping scams.
With the busiest weekend of the year for online retailers around the corner – Black Friday – Australians are warned to approach the silly season this year "with caution".
A report published by Reviews.org found that residents of New South Wales had been hit hardest by online shopping scams, recording a loss of $ 1.55 million to date through 2021.
Victoria followed closely with $ 1.51 million, while the Queenslanders have reported a loss of over $ 888,000 to date.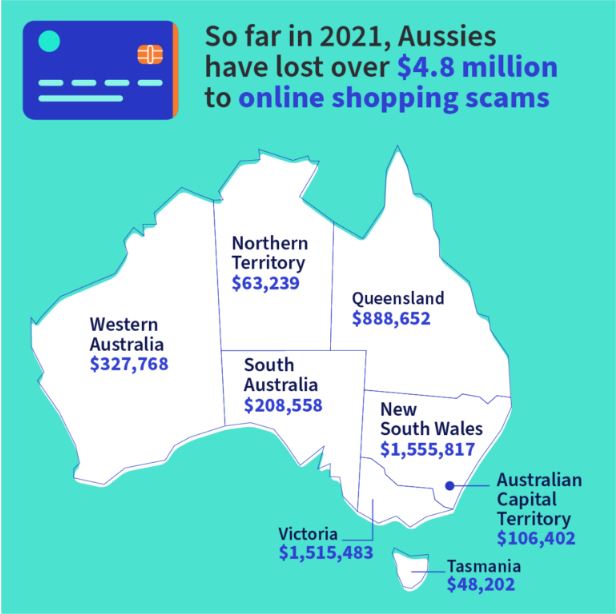 Source: Reviews.org
The rise in online shopping scams has been fueled by the rapid growth in online shopping, with physical retailers being closed throughout the pandemic due to lockdowns.
Online shopping scams are commonly associated with the older, less tech-savvy generation, but Reviews.org noted that the age group that lost the most to online shopping scams were Millennials between the ages of 25 and 34.
Reviews.org found that August 2021 had the highest number of online shopping scam reports to date, with 2,318 reports resulting in an estimated loss of $ 975,000.
Additionally, Reviews.org noted that the largest amount of money Australians lost was due to email scams, reporting more than $ 2 million lost so far this year.
Phone and SMS messages have seen the highest number of reports to the Australian Competition and Consumer Commission (ACCC), with 7,526 reports so far this year, representing a loss of over $ 500,000 .
In a survey of 1,000 participants, Reviews.org found: 42% of Australians say they have been scammed while shopping online; 81% say they fear being scammed when shopping online; and 67% say they have found themselves buying more online since the start of the pandemic.
ACCC Security Tips
The ACCC has published a number of tips to help consumers avoid scams when shopping online this holiday spending season.
If it's too good to be true, it's:

often products like phones and laptops are advertised online at prices well below the suggested retail price. Do your research and find out what the reasonable price of the item is, and beware of cheap offers.
Be careful with classified sites:

people often post fake ads on marketplace sites like Gumtree or Facebook. Check the seller's profile on the classifieds site if you can, and avoid direct bank transfers or using cryptocurrency to pay.
Do not click on it:

if you have purchased something online, you will often receive fraudulent emails and text messages informing you of your delivery. If you receive an email or text from an unknown sender asking you to click on a link, don't.
---
Image by Mohamed Hassan via Pixabay.